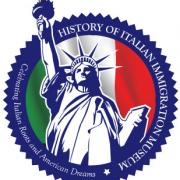 Filitalia International & Foundation proudly announces the formation of
History of Italian Immigration Museum (HIIM)
Celebrating Italian roots and American dreams
Grand Opening celebrated on June 1, 2014
in conjunction with "Festa Della Republica"
1834 E. Passyunk Avenue, Philadelphia PA 19148
Hours:
The Museum is open to the public:
Wednesday 10am-5pm
Friday 10am-5pm
Satuday 11am-7pm
Sunday 11am-5pm
*Holiday Hours -
Museum will be closed Friday December 25th, Saturday December 26th, Sunday December 27th and Friday January 1st*
Filitalia Foundation 501(c)3 is a private non-
profit organization created in 1987 and The 
History of Italian Immigration Museum exists to 
preserve the tangible and intangible heritage of 
Italian Americans through stories that permiate 
all cultures. HIIM connects the Italian-American 
community with its cultural roots and shares 
that heritage with people of all backgrounds 
by engaging visitors in participatory and 
educational programming.
JOIN THE MUSEUM
The Museum has more to offer than ever 
before. It is a great time to join, renew, give 
a gift of membership, refer a friend, business 
associate, or family member Call 215-334-8882
We need your help in whatever way you can!
Help with museum formation, participate in the planning process.
Help with research and gather stories from your family.
Collect artifacts particularly related to the unique culture of Italian life - the antique tools of the various trades; samplings of the crafts of emigrants; the richness of traditions brought over from Italy are a few examples that with a collection of family tales can help bring the History to life in an exhibit.
Artifact donations and gifts may qualify as tax deductible contributions consistent with the provisions of IRS code section 501c3
Contact:  Michael Bonasera
mabonasera@aol.com 
267-261-9729